CSHA's Website

a great way to stay in touch with speech-language pathology and audiology in Colorado
Here you'll find information on CSHA conferences and job fairs, an event calendar for Colorado and the Rocky Mountain Region, news from the American Speech-Language Hearing Association, job referrals, links to consumer and professional resources in Colorado, and a directory of services provided by members.
For CSHA Members, there are additional benefits, including the ability to list your practice or business, an online version of CSHA News, special professional information provided in "CSHA Hot Topics," highlighted access to ASHA bulletins and legislative updates, an optional listing in the personal members directory, and discounts for listings on the CSHA Job Referral Service.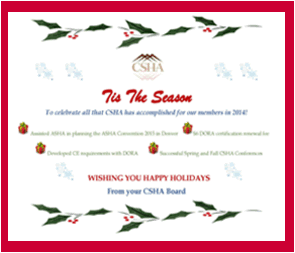 CSHA's Mission

CSHA is devoted to promoting the interests of audiologists, speech-language pathologists and people impacted by communication disorders through collaboration, support, education, quality service and advocacy in Colorado. It is affiliated with the American Speech Language Hearing Association on a national level.